Connecticut Divorce Attorney
Personal Service for Your Divorce
It is important to find a lawyer who is versed in the complex issues that inevitably arise during the emotionally and financially difficult time of filing for divorce.
The divorce process can be tedious and involves:
We Make the Complex Process of Divorce Simple
Although divorce can be a complex process, it doesn't have to be something that is confusing to clients and their families.
Here, at Bauer Law Group, LLC we stand out from the crowd, and remove the burden off of the client by focusing on the following:
We take the time to ensure that our clients understand what is going on through the entire process so that the client can make informed decisions about how to proceed.
We focus on the details so the client does not have to.
We take the client's thoughts, feelings, and needs into consideration so, at the end of an emotional process, the client is comfortable that they have had zealous advocacy and have reached the best outcome possible for their situation.
Grounds for Divorce in Connecticut
Although Connecticut is a no-fault divorce state, it also provides fault-based divorce. When a couple chooses to obtain a no-fault divorce, it essentially means that their marriage is irretrievably broken and there is no chance of a reconciliation. Additionally, when filing a no-fault divorce, neither spouse must prove who is to blame for the end of the marriage.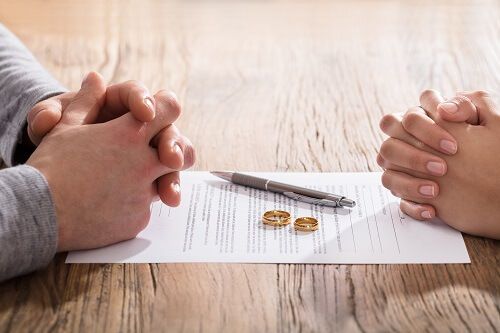 When a spouse files for a fault-based divorce, however, it must be based on one of the following grounds:
Ongoing substance abuse
Adultery
Willful desertion for at least one year
5 years of confinement in a mental hospital
Intolerable cruelty
Imprisonment for certain crimes, such as rape
Regardless if your spouse agrees with your decision to move forward with a divorce or not, nothing can stop you from pursuing the dissolution of your marriage. As long as one party believes the marriage can no longer work, it is enough to set the process in motion.
How Long Does it Take to Get Divorced in CT?
While divorce cases may vary, the general waiting time to get a divorce in Connecticut is estimated between 30 to 90 days. The starting time usually begins once all divorce paperwork has been filed by both the parties and the court, however it can be delayed if the court has a larger caseload.
Can You Get Divorced Without Your Spouse's Consent?
Contrary to the belief that you cannot get a divorce without mutual consent, every state allows for an individual to file for divorce if they feel it is irretrievably broken. The paperwork that must be filed may be rather straightforward, however the issues that come along with divorce can become complex, which is why it's important to have an attorney by your side that can guide you through every step.
Is CT A 50/50 Divorce State?
Connecticut law states that no court will divide assets through any form of bias or favoritism. Connecticut is an equitable distribution state which means that marital possessions will be spit in a fair and equitable manner. This does not necessarily mean that assets are handed out 50/50. They are many aspects of the divorce the court must examine before determining who gets what.
We are Experts at Navigating Legal Considerations
Whether you are dealing with a legal separation or divorce/dissolution, there are a number of legal considerations to be aware of when trying to reach a settlement agreement. The judge will not finalize the action until you and your spouse have reached agreements on these matters in a settlement out of court, or have litigated the case during a contested divorce.
It is important to remember that even when an agreement is reached, it will never be a perfect agreement. All parties will need to make concessions to reach an outcome that everyone is comfortable with even if it does not include everything they wanted. A good agreement is one that is fair and reasonable - not perfect! This is particularly important to keep in mind when there are children involved, as the parents will continue to have a relationship in the shared experience of child rearing.
Contact a Connecticut Divorce Lawyer Now For A Consultation
Divorce is a legal matter brimming with emotion and, often times is compared to the emotions one would experience while grieving the loss of a loved one. Our Fairfield County Divorce Attorney strives to ensure that our clients' interests are protected, while still keeping their eyes on the long term goal of helping our clients move forward from this situation into the next phase of their lives.
Learn more about how we can help and get started on the process now by contacting us for an initial consultation.